«И молитва, и воздержание от скоромной пищи, и посещение храма, и дела милосердия, которые необходимо особенно совершать в дни Великого поста, — все это помогает человеку сделать важный шаг на пути к Богу.»
- HIS HOLINESS PATRIARCH KIRILL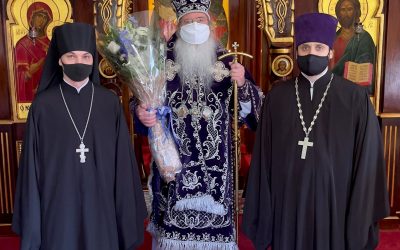 April 7, on the day of commemoration of the repose of Saint-Confessor Tikhon, Patriarch of All Russia, at the invitation of His Beatitude Tikhon, Metropolitan of All America and Canada and with the blessing of Bishop Matthew of Sourozh, clerics of the Nicholas Cathedral in New York, Hegumen Nikodim (Balyasnikov) and Priest Mark Rashkov visited the spiritual and administrative center of the Orthodox Church in America in Sayoset.
read more
DEAR BROTHERS AND SISTERS!
All of your generous donations go towards maintenance and upkeep of our church. By contributing you take part in our mission to continue the work of our founder, Saint Tikhon (Belavin), who envisioned Saint Nicholas Cathedral to be a spiritual home for all people from all walks of life. St.Nicholas Russian Orthodox Cathedral is a registered tax-exempt organization. Tax deductible receipts can be obtained upon request.
Checks and Money Orders
 Make payable to "SAINT NICHOLAS CATHEDRAL" 
Donations can be mailed to the following address

Saint Nicholas Cathedral, 15 E 97th St, New York, NY 10029
You can reach us at (877) 431-7348 or cathedral@ruschurchusa.org